Wrist and hand pain

1, De Quervain tendosynovitis

This is a tendon sheath inflammation condition, which results from repeat thumb movements.
Signs and symptoms:
Moderate to massive swelling on thumb side of wrist,
Pain and stiffness, move pain with thumb crossing palm
Mostly from repeating job, such as hand washing, push buttons
Treatments:
Ice and compression
AROM exercise
Gentle strengthen exercise
Joint mobilisation, If stiffness after swelling settled down
2, scaphoid fracture

This is a common fracture with landing on outstretched arm, severe pain and stiffness on palm side of wrist, patient can hardly move wrist.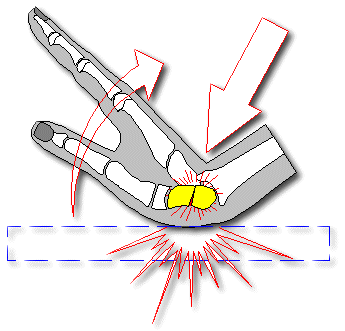 Most of situation, patient will be put in cast for six week, if the fracture scaphoid healed properly, patient will need physiotherapeutic management to regain ROM and strength, if the fracture does not heal, a operation will internal fix the fracture and patient will be in the cast for another six weeks, then starting with physiotherapy.
Signs and symptoms:
Decreased ROM, less extension than flexion,
Decreased thumb and fingers ROM,
Decreased wrist and thumb strength
Treatments:
Joint mobilisation
AROM exercise
Strengthen exercise
Stretch
Agility and endurance exercise
3 wrist, hand and fingers OA

This condition more commonly results from history of injury (secondary OA).
Signs and symptoms:
Pain with cold weather or water
Morning stiffness
Decreased ROM and strengthen
Treatments:
Wax for wrist, hand and fingers is the best for this condtion
Acupuncture, heat and TENs to management
Joint mobilisation
NWB strengthen exercise